(just another random drawing made by me)
How smart ! I just read my diary from the first page , and found that I've changed so much since my primary-school-hood . Based on the words I wrote on the first-pages compared with today's words . Serious . Kalo dibaca-baca lagi , dulu tuh semua tulisan gue tuh isinya tentang sekolah , ujian , diejekin teman , school-trip , tokoh idola , cita-cita , niat untuk belajar main gitar ..
Dan sekarang ? Semuanya berubah . Udah mulai tumbuh tulisan-tulisan tentang jatuh cinta *cielah , genk yang nyebelin di sekolah , keinginan buat jadi pribadi yang menarik , doa-doa dan harapan , poems , dendam dan kemarahan , hopeless days , shit happens , dimarahin mami , kesedihan , kekecewaan ... Halah pokoknya hal-hal remaja lah .
See ? I've changed !! :)
I experienced such a big change in my life !
Apakah all things happened to me itu menunjukkan bahwa gue semakin menyerupai cewek remaja pada umumnya : girlish ?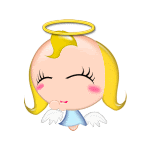 Ah, kayaknya enggak juga deh . Gue masih tomboy kok , cuma nggak se-tomboy yang dulu . Gue hanya belajar untuk menjadi cewek yang apa adanya , bahwa pada kenyataannya gue mulai berusaha untuk merawat diri dan tampil menarik :)
awalnya sih bukan buat menarik cowok-cowok , cuma pengen memuaskan diri sendiri aja , hahahaha ...
I DRESS FOR MYSELF
. Kalimat itu tepat banget menggambarkan gue . Ada kepuasan sendiri dalam hati kita kalo ngeliat diri kita berpakaian menarik . Menarik bagi diri kita , walaupun belom tentu menarik bagi orang lain :)
And, shit , I guess I started to love

PINK

. Actually it's irritating -- my friends laughed at me : "HUH vilda, so now you love pink ? What the hell is it ? Since when ? Hahahahahahaha ... " ( they spoke indonesian , but let me translate it into english ^^ )
But I shouldn't care about it , yes ? They have no rights to forbid me to love something . It's my choice , gals .

Oh great , percayalah pada gue : GUE BUKAN CEWEK CENTIL !! :DD
***